Peter Betts

Posts: 2075
Joined: Fri Jun 01, 2012 9:28 am
Country: RSA
Mozambicans living in the Moz side of Transfrontier Park ..They feel NOTHING for Wild Life
---
Lisbeth

Global Moderator
Posts: 57636
Joined: Sat May 19, 2012 12:31 pm
Country: Switzerland
Location: Lugano
That's generalizing

"Education is the most powerful weapon which you can use to change the world." Nelson Mandela
The desire for equality must never exceed the demands of knowledge
---
Lisbeth

Global Moderator
Posts: 57636
Joined: Sat May 19, 2012 12:31 pm
Country: Switzerland
Location: Lugano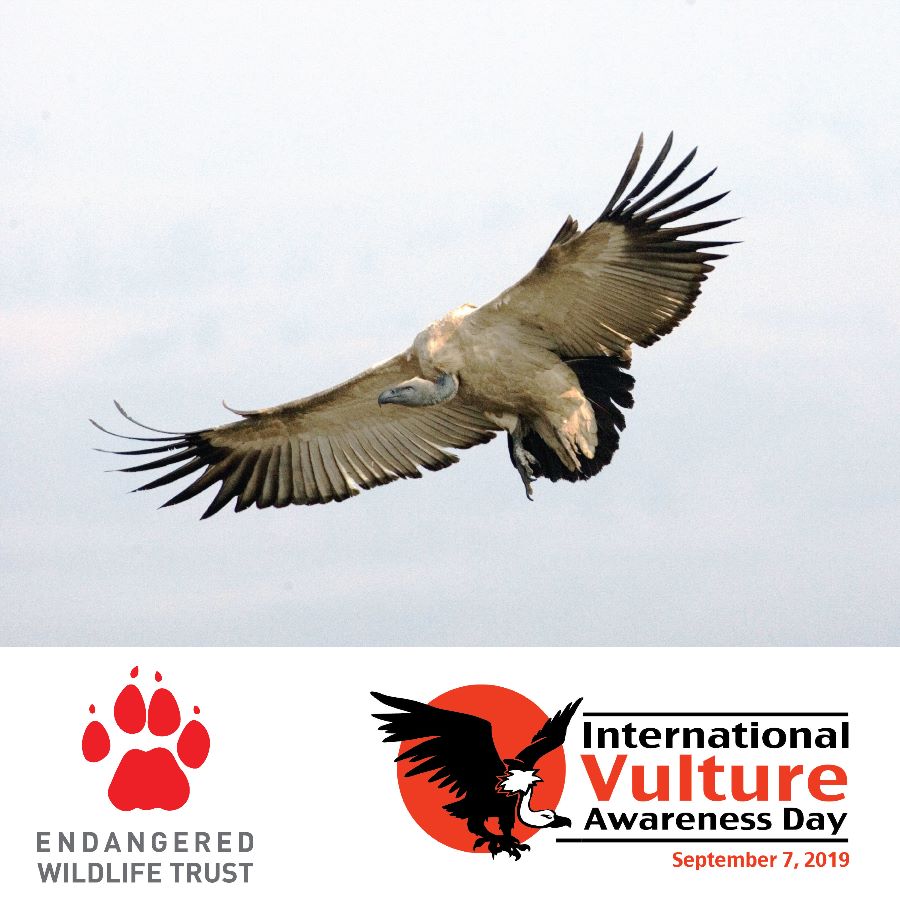 The EWT creates safe spaces for imperilled vultures
As we prepare to celebrate International Vulture Awareness Day on Saturday, 7 September, the Endangered Wildlife Trust's (EWT) Birds of Prey Programme is preparing to extend its conservation wings in the form of a long-term vulture conservation initiative that will ultimately see the establishment of three new important Vulture Safe Zones in strategic sites across South Africa.
Since its inception in 1973, the EWT has played a leading role in vulture conservation throughout southern Africa. In order to combat the concerning decline of vultures across South Africa, we have developed a suite of conservation interventions geared to address the key threats and stabilise and recover vulture populations. Now we are excited to be spearheading the establishment of the first Vulture Safe Zones in South Africa. The use of Vulture Safe Zones has been identified as a priority conservation intervention in the Multi-species Action Plan (MsAP) to Conserve African-Eurasian Vultures (2017). Vulture Safe Zones are one of the most effective ways to tackle the threats to vultures in South Africa's dynamic landscapes. They allow us to protect areas that are important to vultures by focusing on an area, identifying what the threats are, and implementing specific conservation interventions to address these threats.
Within these zones, we actively mitigate and, where possible, remove all major human-related threats to vultures. An important step in this process is the direct involvement of landowners in the establishment of Vulture Safe Zones, engaging and empowering owners across large areas to commit to managing their properties in ways that will create safe spaces for vultures and other wildlife to thrive. This ensures that existing vulture populations stabilise and, importantly, provides the opportunity for vultures to return to their traditional home ranges and breeding sites. Vulture Safe Zones can also function as release sites for captive-bred birds and provide benefits for many other species.
To achieve this broad-scale conservation initiative across southern Africa, we have partnered with SANParks, private reserves including BlyOlifants and Timbavati Private Nature reserves, and other key stakeholders including the Kruger 2 Canyons Biosphere (K2C), Raptors Botswana, BirdLife International and BirdLife South Africa, to create Vulture Safe Zones in important vulture breeding and foraging habitat across the SADC region.
The first Vulture Safe Zone is in the vulture-rich region of Mpumalanga, with a focus on protecting important breeding clusters of Critically Endangered White-backed and Hooded vultures along the Lowveld riparian systems of the Blyde and Olifants rivers – a highly threatened vegetation type, which will also benefit from our conservation work. The second Vulture Safe Zone falls within the central Karoo district around one of the southernmost breeding colonies of White-backed Vultures in Mokala National Park. In the third site, we will establish a Vulture Safe Zone in the south-central Karoo to recover Cape Vulture populations that historically frequented – and even bred – in the region. Our focus here comprises a critical conservation zone that spans across approximately 23,000 km2 in and around three major protected areas: the Karoo, Camdeboo and Mountain Zebra National Parks.
In all of the sites, we will work with farmers, game breeders, private reserves and SANParks to develop landscapes that provide protection to breeding populations and encourage vultures back to areas where they have previously been driven away. Our work will help to develop sustainable land practices that benefit both the people and wildlife. Importantly, this approach encourages positive action for vultures, focusing less on prohibition and negative messaging, and more on sound environmental practices that could provide landowners with reputational and economic benefits. Initially implemented by countries in Asia, and recently in Zambia, Vulture Safe Zones offer conservation solutions that are effective, realistic and achievable at ground level. The launch of this initiative encapsulates the ethos of International Vulture Awareness Day, by bringing stakeholders together and focusing on positive actions, making it the perfect way to celebrate.
What is a Vulture Safe Zone?
A Vulture Safe Zone is an appropriately sized geographic area in which targeted conservation measures are undertaken to address the key threats relevant to the vulture species present. Vulture Safe Zones are developed in southern Africa as an approach to complement national and international efforts to reduce the impact of existing and emerging threats to stabilise and promote recovery of existing vulture populations.
"Education is the most powerful weapon which you can use to change the world." Nelson Mandela
The desire for equality must never exceed the demands of knowledge
---
Lisbeth

Global Moderator
Posts: 57636
Joined: Sat May 19, 2012 12:31 pm
Country: Switzerland
Location: Lugano
INTERNATIONAL VULTURE AWARENESS DAY.
Vultures form an important ecological component of our natural environment, cleaning up dead carcasses and decreasing the spread of some diseases. Their powerful digestive systems neutralize bacteria and viruses that cause cholera, botulism, rabies, anthrax, polio, tuberculosis, leprosy. Vultures literally consume disease and help to keep every living thing in our environment safe and healthy.
Vultures, positioned at the top of the food chain, are an indicator of the health of the environment below them!
More info @
www.vulpro.com/about/
#vulpro #vultures
"Education is the most powerful weapon which you can use to change the world." Nelson Mandela
The desire for equality must never exceed the demands of knowledge
---
Lisbeth

Global Moderator
Posts: 57636
Joined: Sat May 19, 2012 12:31 pm
Country: Switzerland
Location: Lugano
Vulture Awareness Day addresses plight of unique birds of prey
Posted by Elise Kirsten on 6 September 2019
Watching vultures gather en masse, circling high above the ground where they know they'll be fed each day at 1pm at the Victoria Falls Safari Lodge, in Zimbabwe, is a spectacular sight.
Vultures are an ecologically vital group of birds that face a range of threats, including electrocutions and collisions with power-lines, poisonings and exposure to toxicity through veterinary drugs in many areas where they are found. Populations of many species are under pressure, and some face extinction.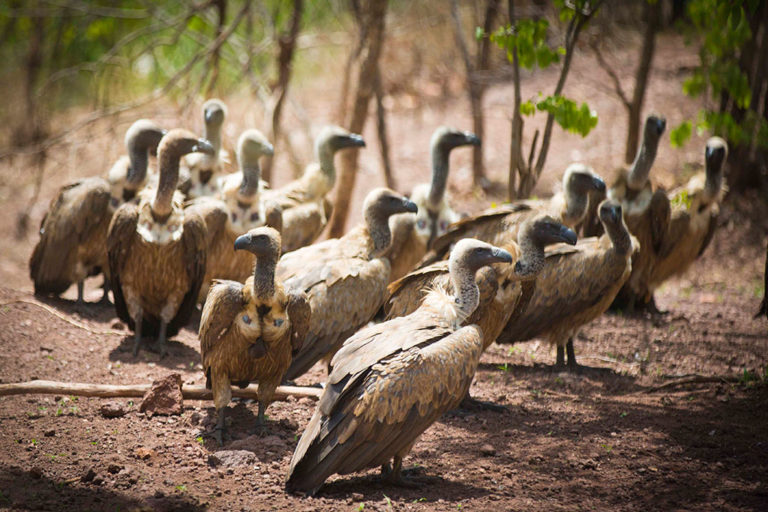 Vultures wait eagerly for bones and scraps of meat at Victoria Falls Safari Lodge. Image: supplied.
Saturday 7 September is International Vulture Awareness Day (first Saturday of the month each year), which aims to highlight the plight of these raptors. While not traditionally considered as majestic as eagles, vultures are a marvel in their own right.
Victoria Falls Safari Lodge, part of Africa Albida Tourism's portfolio in the town of Victoria Falls, recognised the value of these birds of prey and initiated its Vulture Culture experience in 2011, making 'every day Vulture Awareness Day'.
Guests and visitors to the restaurant can sit on the lodge's deck and watch the birds circle and then descend in a flurry of feathers when the food – bones and leftover scraps of meat from the lodge's on-site restaurants – is served. Or, if you prefer, you can make your way down to the feeding area and watch from ground level.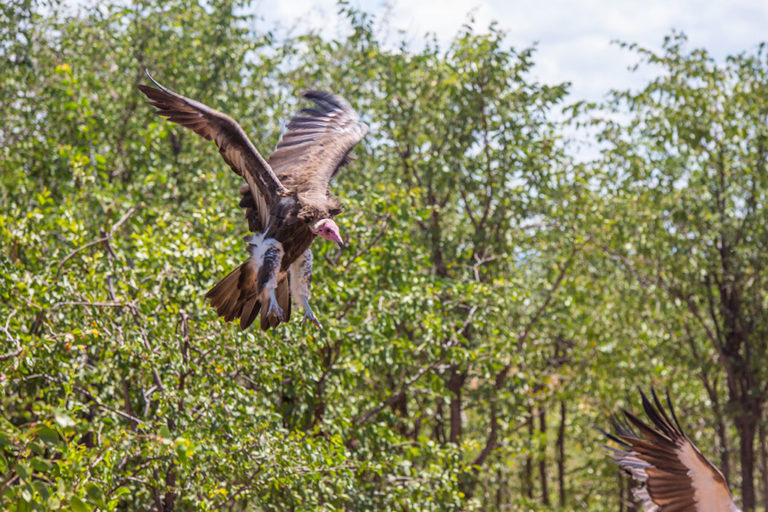 A vulture comes in to land at the feeding site. Image credit: Elise Kirsten
'AAT's goal is to supplement the birds' diets to keep them away from dangerous areas where they are under threat,' says Nommy Vuma, Africa Albida Tourism (AAT) Group Marketing Manager.
'Generally, you would find only three breeding pairs of vultures within a 500km radius, but with constant pressure on feeding areas, the Vulture Culture experience plays and important role in providing a source of food as well as an informal monitoring of the numbers and species that visit the restaurant.'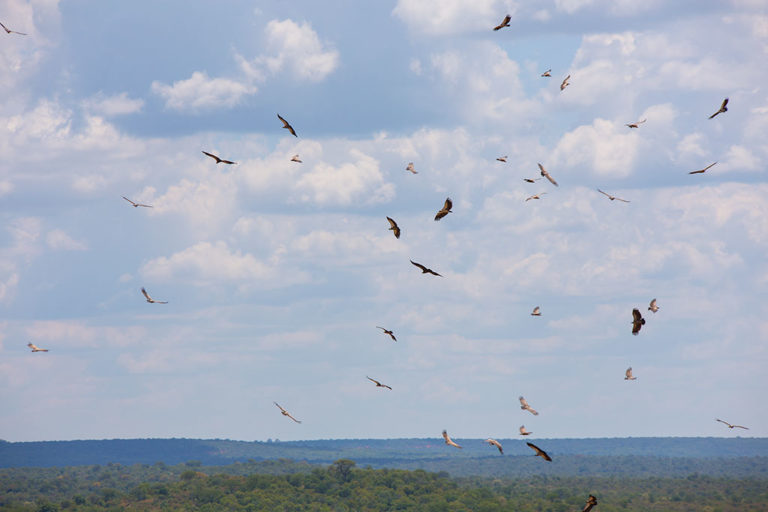 Vultures and some marabou storks begin circling on the thermal currents about half an hour before feeding time at Victoria Falls Safari Lodge. Image credit: Elise Kirsten
'This activity was initiated in 2011 when an animal died of natural causes at our waterhole, attracting vultures and other birds to the site,' says Vuma. 'With professional advice and extensive research on the drastic situation we decided to continue putting meat out on a daily basis.'
'Valuing and actively conserving our indigenous wildlife resources is vital for tourism in and around Victoria Falls,' adds the marketing manager.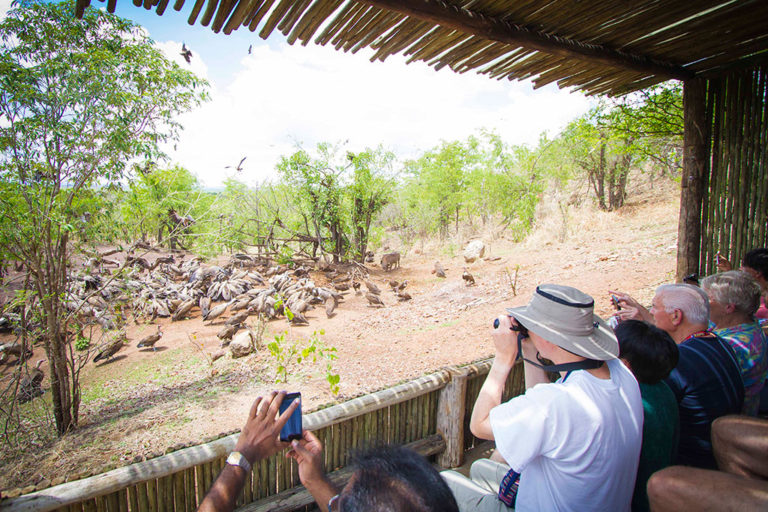 Guest can enjoy the Vulture Culture experience under shelter from the hot, African sun. Image: supplied.
The experience is not only educational but also contributes to scientific research and assists with conserving the vulture population under threat, in collaboration with Vulpro (a world-renowned southern African vulture conservation organisation) and Victoria Falls Wildlife Trust.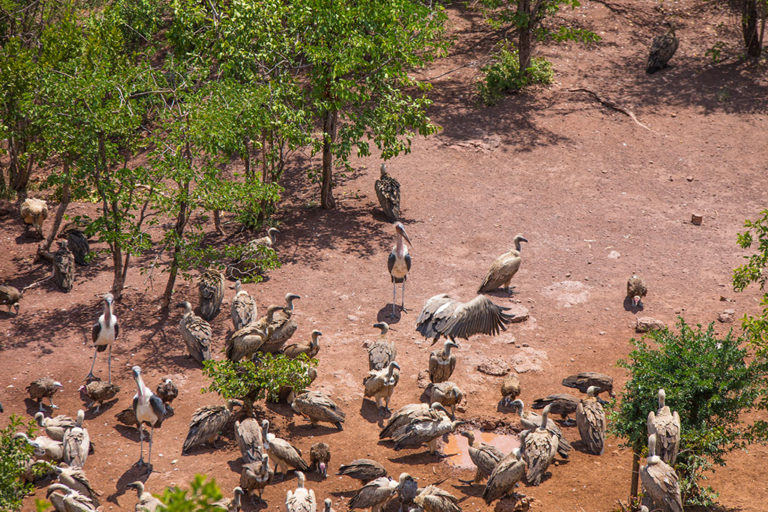 Vulture Culture Experience which takes place daily at 1pm at Victoria Falls Safari Lodge

'Every day is Vulture Awareness Day thanks to the Vulture Culture Experience,' states Africa Albida Tourism, one of the leaders in the hospitality industry with a portfolio of luxurious hotels, lodges and restaurants in Victoria Falls, Zimbabwe.
For further information visit africaalbidatourism.com
A number of species of vultures and other birds tuck into the daily feast. Image credit: Elise Kirsten
"Education is the most powerful weapon which you can use to change the world." Nelson Mandela
The desire for equality must never exceed the demands of knowledge
---
Lisbeth

Global Moderator
Posts: 57636
Joined: Sat May 19, 2012 12:31 pm
Country: Switzerland
Location: Lugano
I wonder if this is a good or a bad thing conservation wise

If the birds get accustomed to getting fed will they still feed in the wild? If the feeding is stopped, what happens

"Education is the most powerful weapon which you can use to change the world." Nelson Mandela
The desire for equality must never exceed the demands of knowledge
---
Lisbeth

Global Moderator
Posts: 57636
Joined: Sat May 19, 2012 12:31 pm
Country: Switzerland
Location: Lugano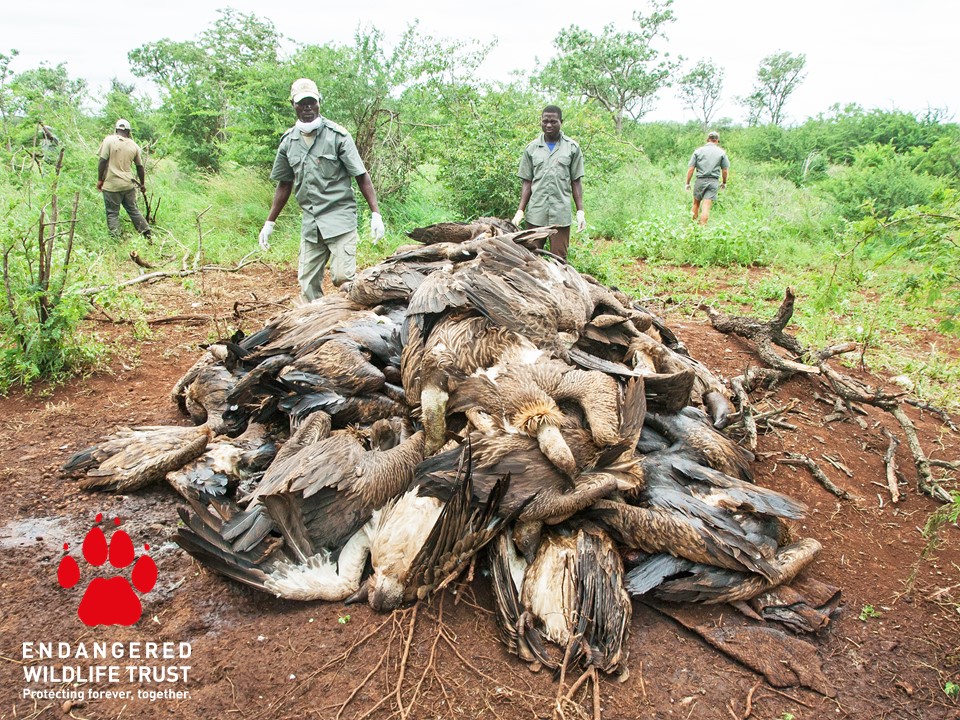 Africa's Critically Endangered vultures face relentless poisoning
13 September 2019
In a letter published yesterday in the journal Science, vulture researchers have raised the alarm over the relentless poisoning of Critically Endangered vultures across Africa. During the past 20 months, over 1,000 vultures across the African continent have perished due to widespread poisoning. Vultures have succumbed to poisoning in Mozambique, South Africa, Botswana, Zambia, Namibia, Tanzania, and Kenya.
Vultures are vital for healthy ecosystems and their role in rapidly consuming carcasses is both an undervalued ecosystem service as well as an iconic phenomenon of the African savannah.
Two of the most substantial poisoning threats come from poachers and traditional healers. Poachers deliberately poison vultures in an effort to eliminate them because by flying over carcasses vultures reveal the poachers' presence. Vulture body parts are harvested unsustainably for medicinal and other belief-based uses and this is typically carried out using poisons.
Lead author Dr Antoni Margalida said, "The sustainability of free-ranging vulture populations depends on our ability to identify and mitigate existing and future threats. In this sense, African governments should prioritise the reduction of illegal poisoning related to belief-use and poaching, as well as the education of their citizens about the dangers of pesticide misuse."
Dr Darcy Ogada of The Peregrine Fund, and one of the letter's authors, stated, "It's time that African governments acknowledge and address the massive problem of pesticide misuse. As poisoning continues to devastate vulture populations, the widespread misuse of pesticides seriously threatens the health of Africans, their livestock, as well as the environment that we all share."
"Although some of the actions recommended in
the Multi-species Action Plan to Conserve African-Eurasian Vultures
to reduce the impact of poisoning on the continent's vultures have been implemented in some areas in southern, east, and west Africa, a lot more needs to be done. For example, better coordination of such activities in identified poisoning hotspots, and cooperation between multiple stakeholders is needed," concludes André Botha from the Endangered Wildlife Trust in South Africa.
"Education is the most powerful weapon which you can use to change the world." Nelson Mandela
The desire for equality must never exceed the demands of knowledge
---
RogerFraser

Site Admin
Posts: 5283
Joined: Wed Sep 18, 2013 9:36 pm
Country: South Africa
Location: Durban

its one thing after another with threats against wildlife in Africa .


---
Lisbeth

Global Moderator
Posts: 57636
Joined: Sat May 19, 2012 12:31 pm
Country: Switzerland
Location: Lugano
Yes, it does not seem to very appreciated by a whole lot of the local populations. Ignorance once again

"Education is the most powerful weapon which you can use to change the world." Nelson Mandela
The desire for equality must never exceed the demands of knowledge
---
Klipspringer

Posts: 1994
Joined: Sat Sep 14, 2013 12:34 pm
Country: Germany
These are the two reasons why vultures are dying in KZN
KWAZULU-NATAL / 17 SEPTEMBER 2019, 2:30PM / THOBEKA NGEMA
Durban - Vultures are critically endangered and their population is declining owing to human activity.
There are two types of vultures found in Ukhahlamba, the Cape Vulture and the Bearded Vulture.
Central Ukhahlamba Drakensberg Park Community Conservation Officer Sinenhlanhla Mhlongo said Intabamhlophe Mountain is a home and breeding site of Cape vultures and partially managed by Ezemvelo KZN Wildlife because of vulture sites. Bearded vultures occur mainly on Giants side and they feed mostly on bones and marrows of dead animals.
Vultures controlled the spread of diseases to domestic animals, wildlife and humans and they make the environment free from the odour from dead animals.
Their bodies are also resistant to diseases.
In June, 20 vultures were found dead from suspected poisoning in two separate incidents.
Two of the reasons behind the decline of the vulture population are:
1. Vulture Poisoning
Some people poison carcasses with an intention of killing carnivores but vultures become victims because they feed on the same animals.
"Poisoning of vultures do not have a negative impact on vultures only but also on humans. Some people sell poisoned vulture parts for muthi purposes which results in putting people's health at risk. There are incidents where patients that were treated traditionally with poisoned parts of vulture died because of poisoned medicine. Treating patients with poisoned parts of vultures can result in unnecessary fatalities and arrests," Mhlongo said.
2. Power Lines
"Power lines also poses a threat to vulture population due to collisions that results to the death of vultures since power lines are not visible to the birds," she said.
She said vultures are protected by law because they are a threatened species. For one to be in a possession of a vulture part needs to apply for a permit through Ezemvelo KZN Wildlife.
Daily News
https://www.iol.co.za/dailynews/news/kw ... n-33120379
---